Get To Know Matt
Prior to joining us in December 2020, Matt spent the last 15 years in product development, taking on roles in engineering, project management, and process ownership! He's also spent time in the consumer electronics and construction equipment industry. Overtime, he's developed a keen eye for product and design implementation. Keep reading to get the facts about Matt! ⬇️

What are

3 things

people don't know about you and may be surprised to learn?
My family has a farm in Coshocton County, OH that has been in my family going back to a bounty land warrant from the War of 1812
I was a part-time FM radio DJ in high school
I am a nationally ranked judge for beer competitions
What is the coolest thing about your job and why?
I love that our products allow real-life heroes to do their jobs effectively and safely. What we accomplish for them really does matter! 💪
Have you been anywhere recently for the first time? ✈️
I was just at our Pelham, GA facility last week to learn from the team there.
What is your #1 recommended TV show or movie?
Yellowstone. If you haven't seen it I suggest your remedy that TODAY!
What's the best advice you've ever received? What about the worst advice?
Best Advice: "Between stimulus and response there is a space. In that space is our power to choose our response. In our response lies our growth and our freedom." - Viktor Frankl
Worst Advice: "Finish your plate."
What's something you want to do in the next year that you've never done before?
Shoot below 85 on 18 holes of golf.
How do you relax after a hard day of work or on the weekends?
I love to golf and play basketball when I can. I also like playing with my kids, and relaxing in front of the TV at night.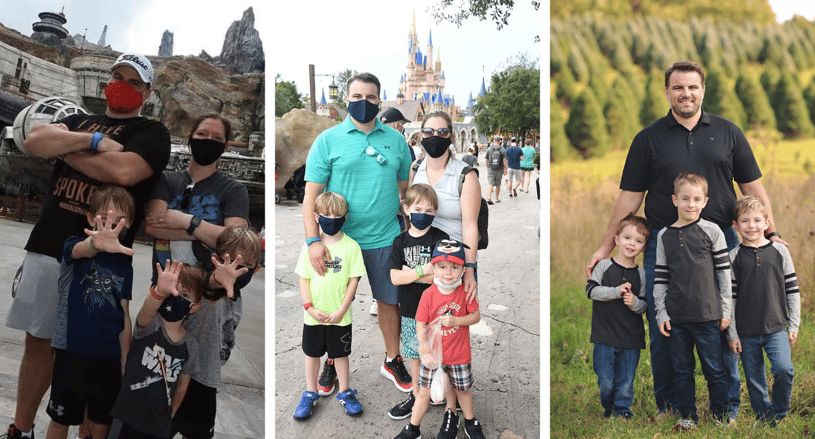 Imagine you could step in a teleport for a day and go to any place and time in history. Where and when would you travel to?
I would like to be present at the signing of the Declaration of Independence. I think it would be awesome to feel the presence of hope and liberty in the room. 🌟
What's your favorite family tradition?
Decorating the Christmas tree while watching National Lampoons Christmas Vacation. 🎄
What would you like to be known/remembered for?
Being dependable, accountable, a great father, and husband.
How would your friends describe you?
Reliable
Gives great advice
Funny (although, maybe not as much as I think) 😆
If you could live anywhere on this planet, where would you choose to live? 🌎
I have the attitude that no matter where you live, there are plusses and minuses. Would I like to live on the beach? Sure, but we don't have hurricanes in NE Ohio!
What could you give a 30-minute presentation on with absolutely no preparation?
Homebrewing beer! When I began the process of becoming a competitive beer judge, I needed to learn all of the techniques that go into making a variety of beer styles. Then, I eventually passed the exam to become certified!