Jeff Koledo, our Vice President of Sales at Fire-Dex, shares five tips for having a successful wear trial in a guest spot from Fire Apparatus and Emergency Equipment magazine. 🔥
Evaluating turnout or bunker gear is a critical step for any fire department before selecting and ordering new garments. There are several best practices that departments can follow to ensure that their PPE wear trials go smoothly, and they make the right decisions that benefit all personnel.
Prior to purchasing PPE, consider these five tips for a successful wear trial. Note that in all cases, participant communication and coordination are key to arriving at an effective conclusion.
1. Seek alignment for a streamlined process.
It is important to ensure all stakeholders are involved and aligned on the needs of the department. This includes health and safety committees, union representatives, administrators, as well as procurement and training personnel.
A defined procurement plan that is developed with input from all parties can guide your wear trial to the desired outcome better than an informal process that yields inconsistent results. Ask your group to agree on the questions you want to answer before your PPE evaluations begin. This helps avoid disagreements that might stem from vaguely defined objectives. Key considerations include:
Will the bunker gear that performs the best in the wear test be the bunker gear specified for purchase?
Will exceptions be permitted or considered?
Will there be a combination of criteria used for final purchase including lead time, bid price, country of origin, and customer service?
Who will purchase the gear or how will the cost be shared?
What is the deadline to reach a decision and what factors (e.g., manufacturer access, staff availability, budget and resources, etc.) might impact the timing of the wear trial?
All representatives of your evaluation committee should be active participants in the planning stages. As your trial progresses, look for opportunities to bring stakeholders together, whether that is a periodic checkpoint to assess progress or visiting a manufacturer's plant.
Some purchasing entities may wish to evaluate a supplier's capabilities as they relate to production, quality control, product engineering, and laboratory testing. Many departments utilize a comprehensive factory tour for this assessment to see firsthand how gear is made. A site visit can give your committee a better understanding of the materials and methods that will go into the garments you are evaluating, helping everyone to be on the same page when making decisions.
2. Make it measurable.
Also set clear and measurable criteria for what is being evaluated. There are different criteria for different pieces of equipment and knowing what factors are most impactful is key. For instance, when testing gloves, you want to focus on thermal protection, accuracy of palm size, and dexterity opposed to boots where weight, stability, and the ease of donning rugged footwear takes on added significance in the line of duty.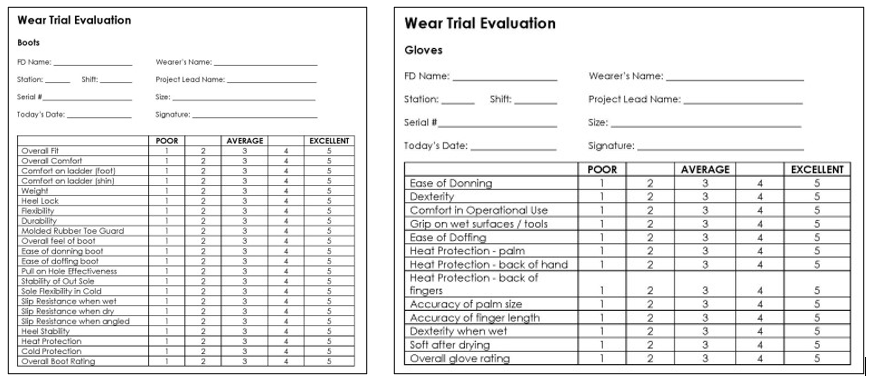 Firefighting boots, gloves, hoods, and garments all have special considerations that are part of properly testing and evaluating bunker gear during wear trials.
A proper field assessment starts with willing evaluators who are representative of the activity level of the department and its cross functions. Candidates should first pass a physical aptitude test determining their ableness to perform the trial, and testing duration should be uniform for all gear so that results are comparable. Candid and vocal analysis throughout the evaluation is beneficial to reaching group consensus.
Set well-defined and repeatable testing protocols (in most cases, a numerical rating structure from 1 to 5 is easy to administer). Make data collection private and take appropriate steps to maintain unbiased opinions, at least initially. Also be sure to clarify with manufacturers what will happen to the test garments at the end of the trial period.
Furthermore, be mindful of physical stressors during wear trial evaluations as rest, hydration, and caloric intake all affect evaluator health and performance. Thermal evaluation should only be conducted once per day to eliminate testing bias resulting from lingering physical exhaustion.
3. Be open-minded to change.
Fire department standards and procedures continue to evolve. If your well-worn PPE is starting to feel dated, it might be time for a change.
Start by scheduling meetings with bunker gear manufacturers that will give you the opportunity to take an in-depth look at the latest designs and technologies. The decision-making path your department is pursuing is critical to shaping future PPE protocols, and products and the companies that make them are advancing rapidly in their capabilities. An open dialogue and hands-on process are vital to ensuring both groups have a clear understanding of your department's expectations.
Set aside at least two hours for a manufacturer presentation where you can also discuss the specific PPE challenges you face. Seek the participation of health and safety committee members as well as anyone who may be involved in the evaluation. The time invested upfront will help you get the most out of the process that follows. Some manufacturers feel so strongly that they require this step to participate in a formal wear trial with your department.
Bunker gear is becoming stronger, safer, and in some cases, smarter. Ask your manufacturer about designing a system from the ground up that fits the changing face of fire service.
4. All participants should test all gear.
Utilize the APTAG approach (All Participants Test All Gear) to help ensure a reliable head-to-head comparison of each ensemble across a range of conditions. It is beneficial for evaluators to adhere to the APTAG approach opposed to wearing ensemble A for a period of time, then ensemble B, etc.
It is recommended to allow your manufacturer access to your evaluators for fit verification. No matter how precise upfront measurements may be, there are several factors that can impact the actual fit once the garment is received. If garments being evaluated do not fit properly, the integrity of the complete evaluation process could be compromised.
Continuous follow-up with evaluators is also important. Although fit is verified at the time of distribution, small changes are often appreciated by evaluators after initial evaluations are completed. Your process should be monitored approximately every 30 days to obtain feedback, which helps your department adapt quickly to evaluator input.
5. Discuss the results together.
As noted, a published evaluation plan including a start/end date, performance criteria, and measurable objectives is preferable to an undefined time frame that leads to costly, unreliable results. Such processes can drag on for months or years making it difficult to make true head-to-head comparisons of manufacturers and solutions. Having a well-defined plan helps ensure your department gets the best products for its needs.
The evaluation process is a commitment of time, financial resources, and effort on the part of your department and the manufacturer. A post-evaluation summary is your chance to understand the results in detail, including all surveys and reports created throughout the wear trial. In most cases, manufacturers will arrange a formal presentation at the location of your choosing. Even if you are confident in your final decision, take this opportunity to benchmark your department's updated requirements against expectations for future needs.
More to know!
While a PPE wear trial requires careful planning and execution, it is also an exciting opportunity to get acquainted with advancements in gear and to see options you might not be aware of, such as alternative PPE that is becoming popular with departments who respond to all types of non-fire emergencies.
Are you ready to switch to quality gear and the best customer service in the industry? See if your fire department qualifies for one of our wear trials by clicking the button below.